What You Need To Know Now About SEO
We've put together this Essential Guide to SEO for 2023 and beyond, especially for marketers, web managers, and executives who know they need better results from their Google rankings but aren't quite sure how to do it. This guide was created to get you headed in the right direction.
What Is SEO?
Search Engine Optimization is when your business earns traffic from Google – not from paid ads or sponsored content – but organically. In other words, it's a coveted spot on a search results page that you've worked hard to achieve by optimizing the content on your website. SEO can and should be a major tool in your marketing toolbox. To excel at SEO you need to follow certain rules and best practices when you're creating content so that search engines understand how you'd like to rank. 
Of course, your goal is to get your web pages – and keep in mind Google ranks web pages, not websites – to display as prominently as possible for target keywords or phrases relevant to your site traffic goals. In other words, you need to be intentional about who you drive to your website through Google. 
Why SEO Matters To Your Organization's Marketing Goals
Speaking specifically about associations and nonprofits (who happen to be many of our clients) we hear often that they "are happy with our SEO" because if someone types in their acronym (or their acronym and a related industry keyword), their website shows up at the top of the Google results page. This is referred to as "branded search" and we'll cover more about that later in this guide, but suffice it to say that excellent branded search isn't enough. Those branded phrases are somewhat assumed to be owned by your organization and the intent of the user is clear: they want to see your specific content about that topic. 
Instead, think beyond your brand and put yourself in the mind of your members, donors, customers, and/or constituents. What keywords might they be typing into Google to not just find your content, but to find information about your industry or how to do their job better or how to contribute to your amazing cause? And then how can you meet them on their journey and provide them the exact content they were looking for? That's what SEO is really about.
And if you're an association not worried about gaining members through SEO because search engines don't lead non-members into the joining lifecycle, no problem, there are other reasons to do SEO. One is authority. There is a lot to be said about your website's content continually showing up in the world of Google search results when people are looking for industry information. It doesn't mean they are going to convert into a member on your website instantly, but it will give them peace of mind that you're a go-to entity in the industry and if joining becomes an option, they trust you a little bit more. 
The 3 Key Components of SEO 
There are three primary techniques within search engine optimization:
Technical SEO
On-page SEO
Off-page SEO
Technical SEO relates to your site's load speed, mobile-friendliness, and how easily it can be crawled by Google. A slow-loading site will rank low regardless of other solid SEO tactics.
On-page SEO is what we mostly think of when we hear about SEO. It involves researching the right keywords, creating high-quality content, and optimizing page elements like title tags, alt tags, and keyword density.
Off-page SEO can help strengthen your site's reputation and authority. Guest blogging on sites that are more popular than yours and having other sites link back to your content is an example of off-page search engine optimization.
These three components are what make up any and all SEO endeavors. On-page, of course, gets the most attention generally, but if you're wondering why your pages don't rank the way you'd like, take a deeper dive into off-page and technical SEO. It usually takes some combination of all three to reach the top of the Google results page.
Anatomy of a SERP
SERP stands for "search engine results page." It's the page that Google (or Bing or Yahoo) presents after you've submitted a keyword search query. So if you were to search for "website usability" the SERP will present the search engine's list of websites it thinks you were intending to find.
Here's an example: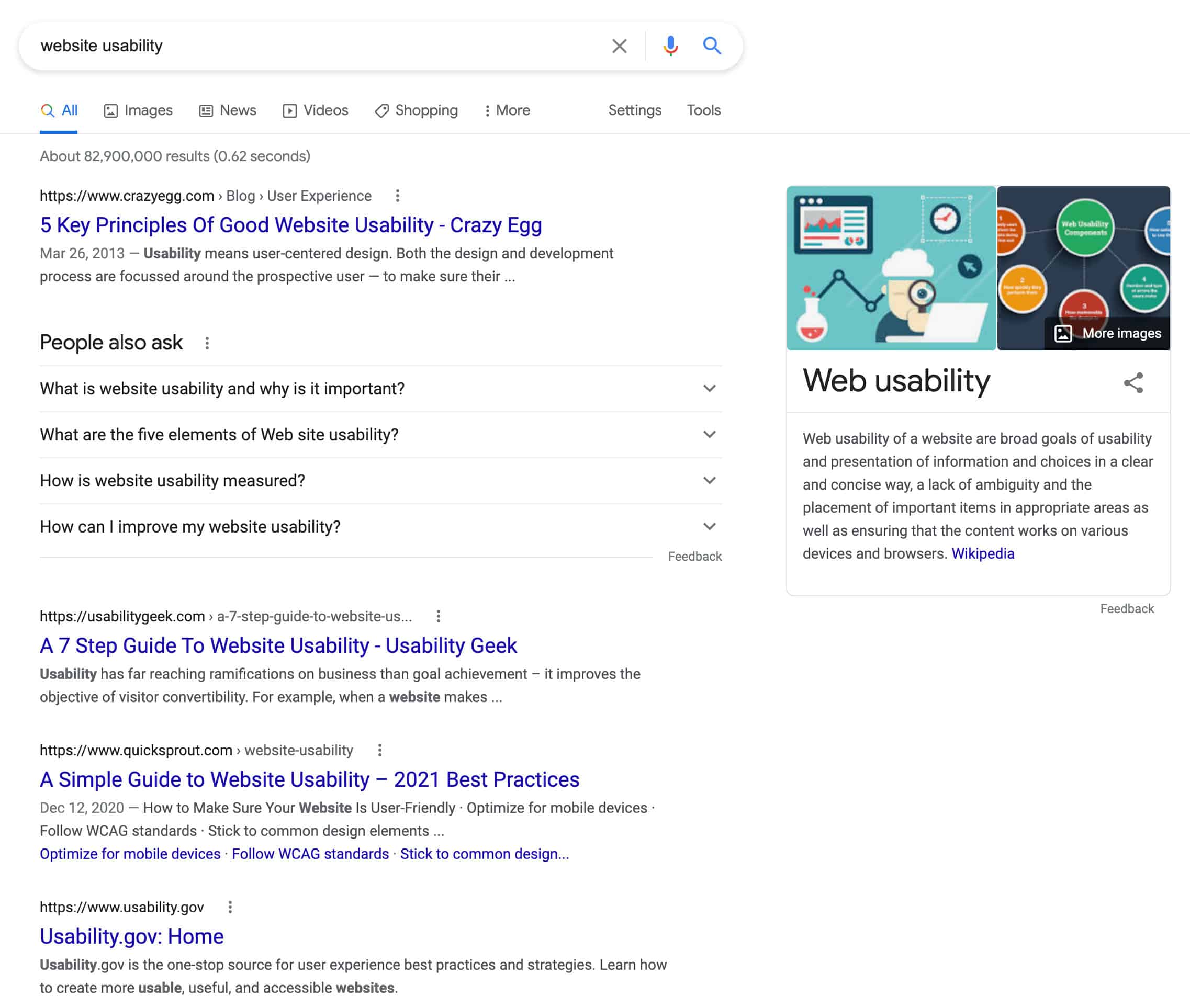 There are many sections that are included in a standard SERP. They are not all seen in the graphic above, but they include:
Organic results – The listing of websites that Google has ranked as relevant for the keyword searched. What many of us consider the main search results. 
Google Ads – Found at the top and bottom of some SERPs, identified as paid advertising by the "Ad" designation before the URL of the listing. 
Featured Snippets – Also known as position zero. It is the first listing on the page, called out with an actual excerpt from the ranking web page pulled into the results page.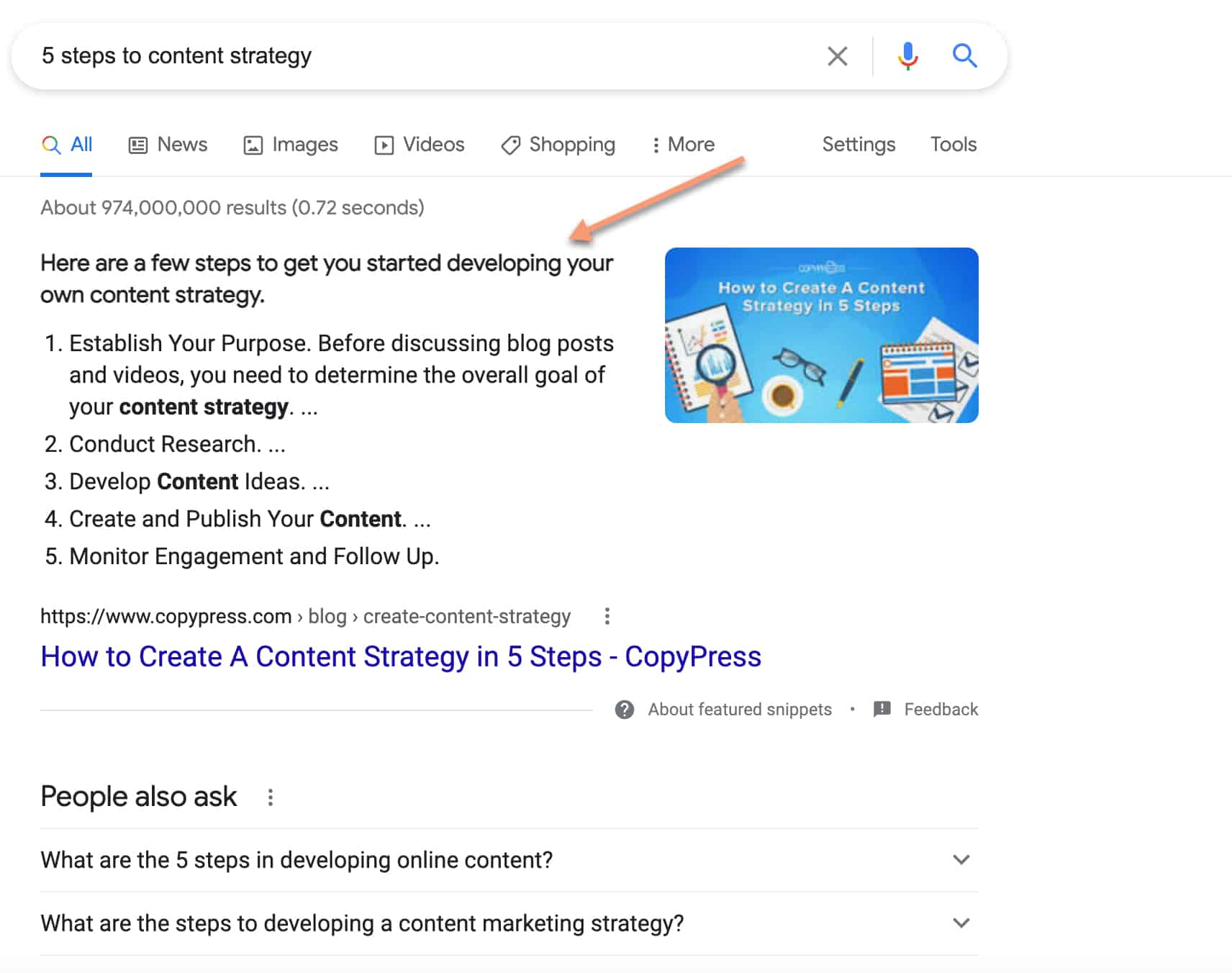 Knowledge Panels – These are the callouts we commonly see on the right side of the page providing very detailed information about the searched topic along with additional resources.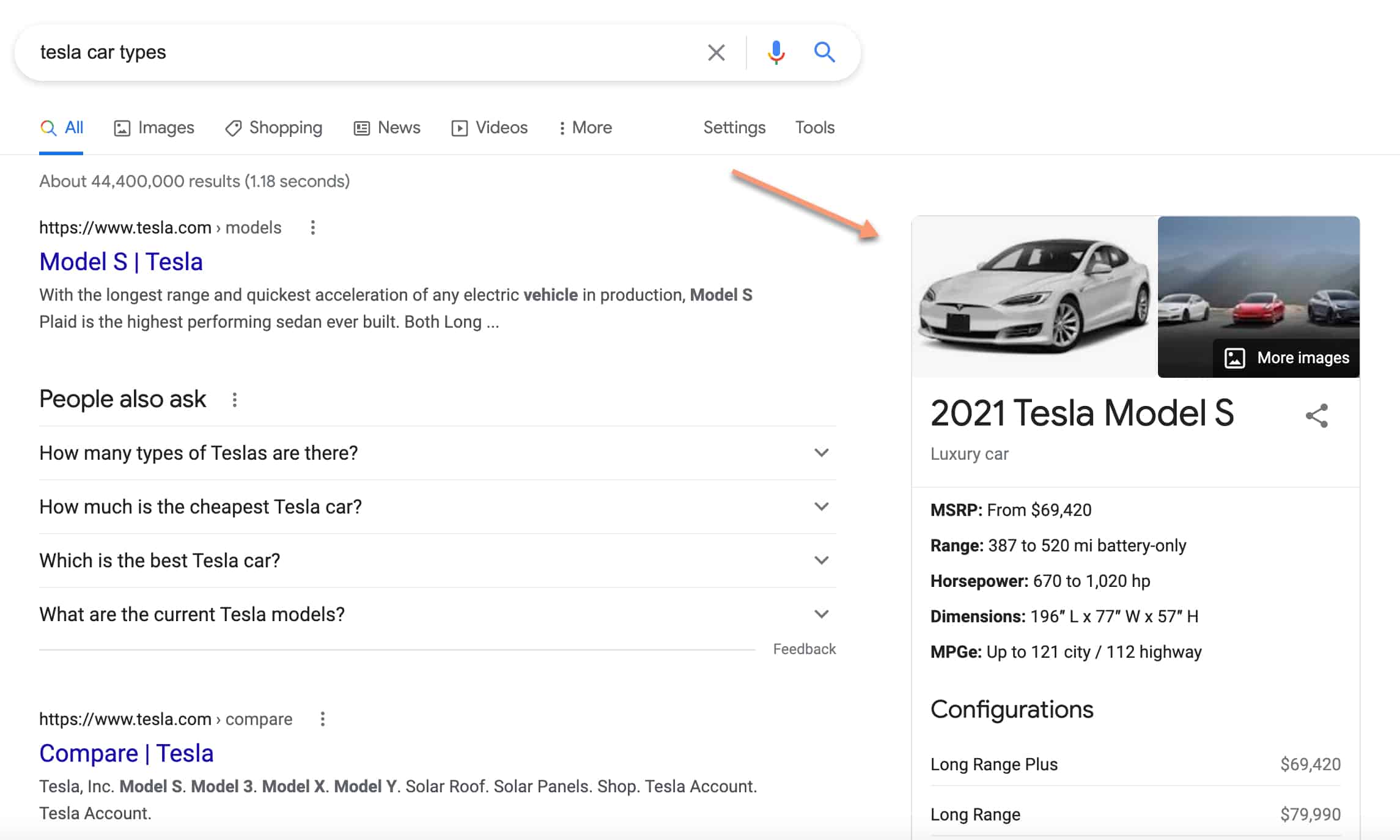 Shopping – We've all seen the shopping options pull up on results pages when we're searching for products that are commonly purchased online (or offline for that matter). 
Local Pack – The section within the organic results area that lists local businesses that relate to your keyword search. Your Google My Business listing is one of the primary areas Google looks to when pulling companies to list. 
Videos – When YouTube has popular relevant videos related to your search, they will show up on your SERP. 
Images – Same as videos. You don't always see relevant image results, but they do show up, especially when you search for a famous person or product.
People Also Ask – This section is very common now on most SERPs. It displays other questions that people have asked related to your keyword and provides easy access – in one click – to see what other answers are available for your query. You can see this section on display in the Tesla graphic above. 
And there are other sections that can sometimes show up on SERPs beyond these listed, but these are generally the most common. The key takeaway here is that the standard organic search results are getting crowded off the SERP page and may even be considered not as useful as the options listed above. So optimizing for organic search alone is not enough anymore, you need to consider how to get your site included in these other areas that are so commonly highlighted. 
Keyword Research and Selection
We talked previously about on-page SEO and that's exactly where keyword strategies come into play. What keywords do we think our constituents or customers will be searching on to find our content? But better yet, what research can we do to validate what keywords people are already using to find content like ours? There are many tools that you can use to do your initial keyword research. A few are:
When identifying what keywords you should be targeting, there are a few key goals to keep in mind:
1. Attract Qualified Traffic
Your keywords determine the quality of the traffic you attract to your site. 
Visitors who come to your site over search but are not your primary audience are considered "low-quality traffic." Obviously, that's because while the extra visit to your site can be a nice stat, it doesn't have any impact on your website goals. 
So then it stands to reason that "high-quality traffic" are visitors that are from your primary audience and are way more likely to convert in some way on your site. 
Spend time learning about your audience's search habits from the tools provided above. It will allow you to tailor your strategy to optimize for the words and phrases they use.
2. Reach Visitors at All Stages of the Conversion Journey
We aren't always going just for the sale or conversion. We want to present relevant content to our audiences at each of the three major stages of the buying process. 
First off, people are looking to be informed. They want your evergreen, educational content. We aren't going for the sale here, but instead looking to create trust and establish authority. 
From there, people want to know that you provide the services they are looking for and that you've worked with businesses like theirs before.
Finally, they reach out – or click "buy" – from the companies they feel are best for them. 
Your content needs to cover all three of these stages and not oversell or overhype at any stage.
3. Cater to your Audience's Questions and Needs
They call Google an "Answer Engine" for a reason. People have questions and need answers. Google.com is the favorite first stop. 
It's important to make sure you understand what is top-of-mind for your audience and what types of things they may be searching for. It might not be as simple as it sounds. Stay away from jargon that only your staff may understand and optimize content based on how your audience thinks and what kinds of problems they are trying to solve. Not what you offer, but what they need. 
Web Core Vitals – What You Need To Know
If you haven't heard about Google's Core Web Vitals, it's time to get up to speed. 
It involves a new factor in their algorithm called Page Experience.
The Web Vitals have three core elements:
Loading

Interactivity

Visual Stability
Check out details right from Google on this new development:
Google Analytics
Beyond keyword research, tracking your Google Analytics month-to-month is a great practice. The key with SEO – and it's something we will touch on more in a future post – is not just to understand what pages were visited, but from where did the visitors come? What keywords did they type into Google to find that page? Did they find what they were looking for?
Let's examine that a bit further.
It's not uncommon to check your Google Analytics at the end of the week, month or year and report on your top 10 most-visited pages from organic search. It's not enough to look at what happened but to try to discern why it happened. In other words, when you look at your list of top 10 most-visited pages, do you know why they are on the list? Many times, when we ask our clients about that, the answer is no. One explanation for that answer is that the organization is implementing few-to-no SEO strategies. And whether we like it or not, Google indexes and ranks most of the pages on our site. It's always going to be your goal to look at your top pages driven by organic search and know that they are ranked as such because you optimized for that very thing.
Bounce rate is another factor to consider as you look at your top pages in GA. If pages are showing rates higher than 70% then what's likely happening is that people are finding your page through a specific keyword search, but when Google directs them to your page, it turns out not to be the content the user anticipated finding. And when someone hits your page and leaves right away without going anywhere else on your site, it's called a bounce. Hence, bounce rate.
Outside of Google Analytics, your Google Search Console can give you a ton of great insights into why pages are performing on search engines the way they are.
Why Quality Content Matters Most
It's one thing to know the fundamentals of SEO and to better optimize pages for Google's algorithm, but what matters most is the quality of your content. So, what defines "quality content?" Relevant content that people find educational or informative or meaningful is the answer. And how do we achieve this lofty goal? By writing for humans and not for the search engine robots. In the end, it's important to know the ins and outs of SEO, but the best advice anyone can give you is to write incredible content. Content people love and want to share and want to link back to. If you're only writing for the algorithm, you're missing the big picture. Get quality right and the rest – as they say – takes care of itself.
Having said that, there is some data that you can leverage in our pursuit of quality content to make sure our blog posts or landing pages are set up for success. Recent surveys of bloggers show that if your article, page, or post has the following characteristics, Google is likely to rank it higher. No guarantees, but the data tells us it's likely.
Have over 1,200 words in your piece (long-form content).

Have over 5 images in your piece (don't forget the alt tags)

Write at about an 8th-grade

 reading level (don't get too poetic or flowery in your copy)

Include a video or two (this keeps people on your page, and Google likes that)

Have some sort of engagement feature (like a survey – this also keeps people on your page and tells Google people like what they are seeing.)
In addition, having content that pertains to a particular year can help show Google your content is relevant. "18 Ways To Improve Supply Chain Management in 2022" is an example. Then when 2023 rolls around, update the content for relevancy and add a date to the post of when your copy was last updated so users know it's current. 
A Simple Strategy for Better SEO – Pillar Content
While there is a lot of talk about "keywords" and "key phrases" when it comes to search engine optimization, there is actually a nuanced approach to effective SEO that you should be aware of. 
To create the best possible ecosystem of relevant content, you need to establish a "topic" you'd like Google to rank you for. From there, create multiple pieces of content that speak to that content. For example, your topic could be "consumer advocacy" and the keywords you use to optimize for that content could be "consumer advocates," "consumer law," and "consumer rights." Of course, there are many more possibilities, but you get the idea.  
Once you've established your topic, you'll need to create different pages or posts to optimize for each keyword. The key is to create a main piece of content (your hub or pillar content) that best speaks to your topic – optimized for a more generic but relevant keyword for the topic – and then also create satellite pages that are optimized for relevant, but more "long-tail" keywords. This tells Google that you have content about a keyword, but it can also deduce that you have related content about similar keywords, which hints more at an overall theme or topic for your content.
Here is a graphic by Hubspot that illustrates how it works: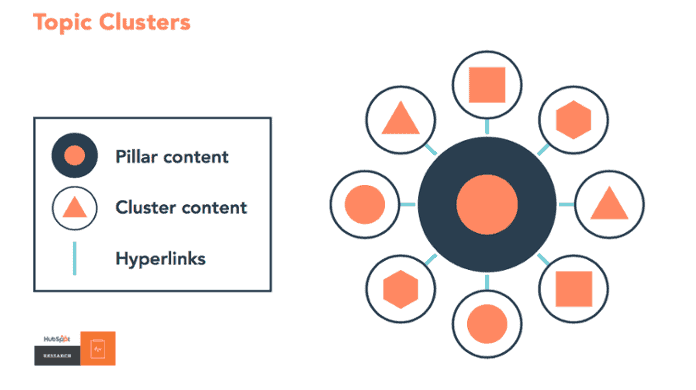 Essential Guide to SEO – In Closing
The information in this guide should get you started on your quest for better SEO, giving you insights and tips along with insider information to make sure you're informed. It might make sense to start SEO on your own, but inevitably there will be a moment when you may need to hire an agency to help get you to the next level. 
Remember that Google's search algorithm is always evolving. It doesn't have to be something to fear as long as you follow the basic rules of SEO and, most of all, produce quality content that people cannot help but consume and share.
–Last Updated October, 2022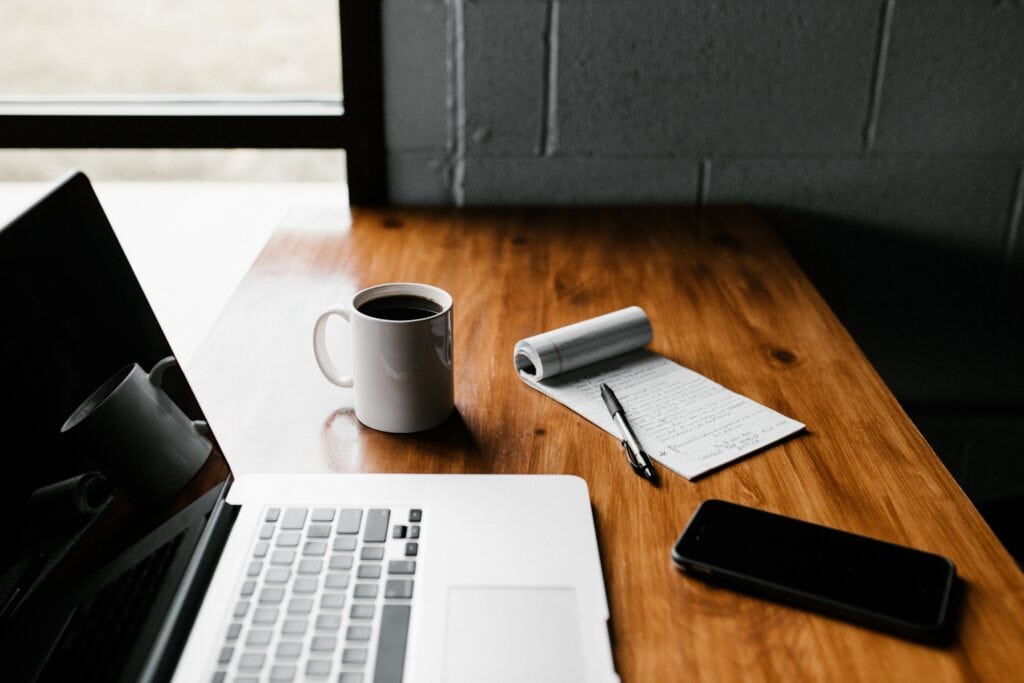 If you've read any marketing newsletter in the past few months, you've seen the…
Keep Reading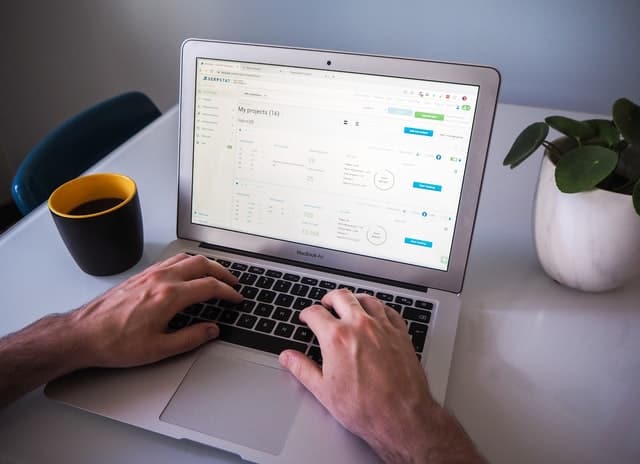 What You Need To Know Now About SEO We've put together this Essential Guide…
Keep Reading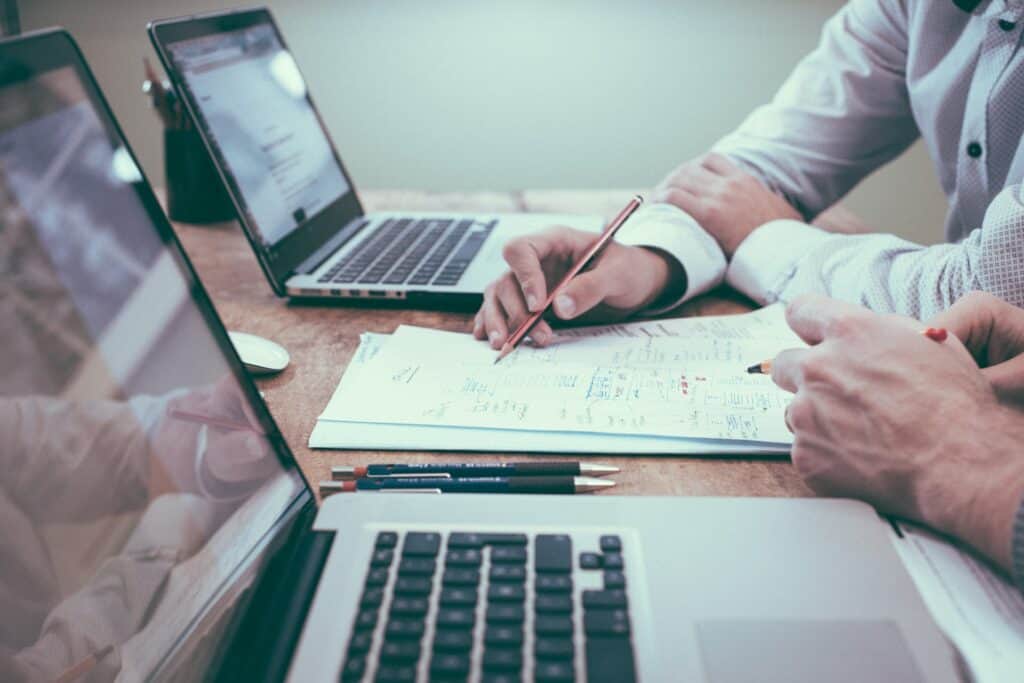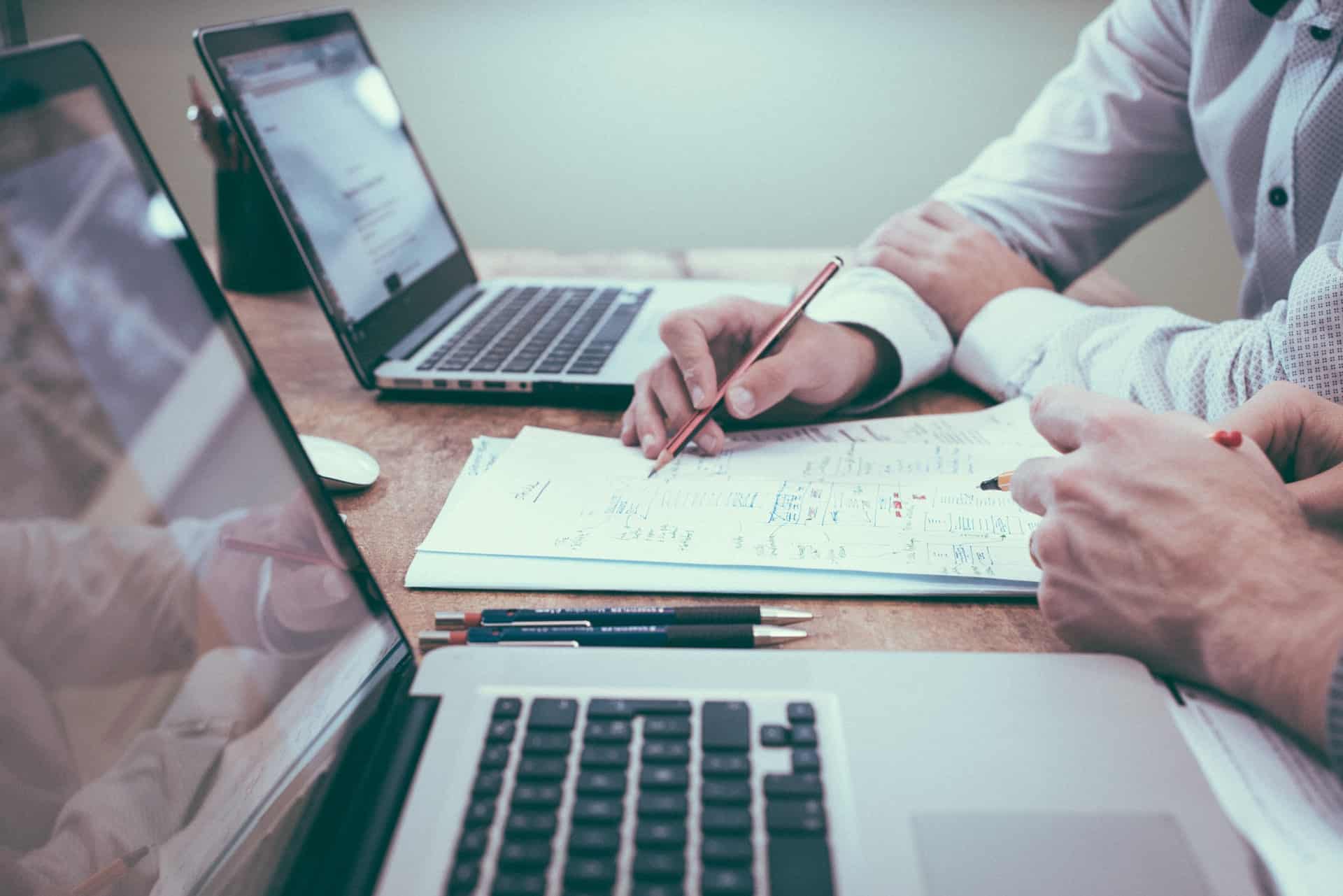 How to write a website RFP – What we've learned over the years If…
Keep Reading